Description
Product Reviews
Warranty
Thermo-Rite Twin Panel Mesh Stock Masonry Door 30" x 22" - 3022
The Twin Panel Mesh Door has a framework constructed of anodized aluminum with 2 3/4" top and side panels and an 11/16" bottom panel. The twin panel mesh door features a 1/8" flattened, expanded 25 gauge steel mesh securely mounted in an anodized aluminum-extruded frame.
Overall Frame Size is 30" x 22". Will Fit Openings 26" to 29" Wide x 19" to 21 3/8" High
Reserve and Decor frame models available.
Standard Finish: Flat Black
*Additional Frame Finishes Available:
Gold Antique Vein, Silver Antique Vein, Copper, Pewter, Natural Iron, Black Iron, Grey Iron, Bronze Iron, Old Iron, and Moss Iron. Please allow at least 3 weeks for delivery on these special Finishes (Painted Finishes are Non-Returnable.)

Click to see Thermo-Rite Twin Panel Mesh Door spec. sheet

Click for measuring instructions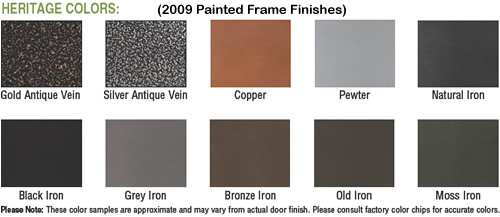 Manufacturer's Warranty